20 Steps To Achieving Anything
We all have dreams and aspirations, whether it's to become a successful businessperson, learn a new language, or get healthy. But often, these ambitions can seem out of reach.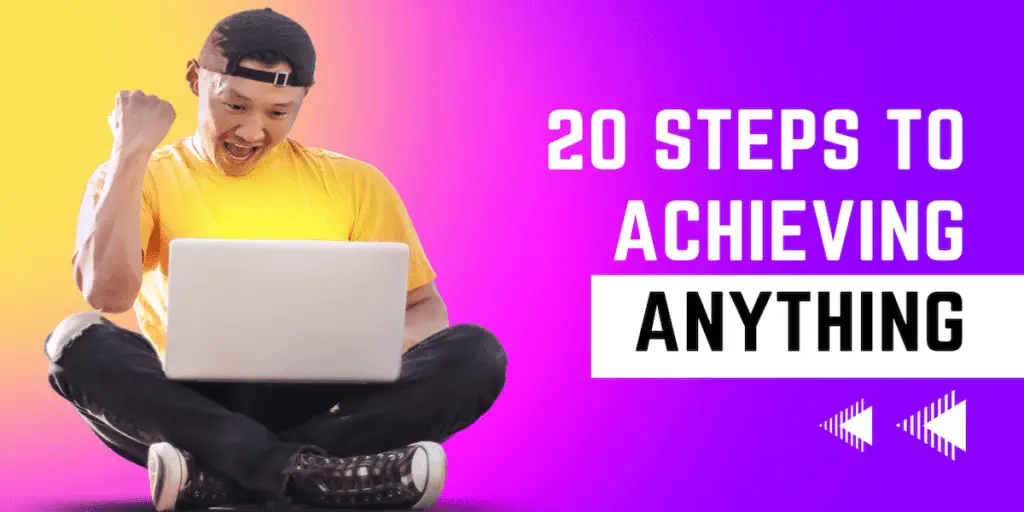 Fortunately, there is a path that can lead you to success in any endeavor: following the right steps. In this article, we will explore 20 steps to achieving anything you set your mind to! With these powerful tools at your disposal, you'll be well on your way to turning those dreams into reality.
1. Clarify My Goal
I will write down exactly what it is that I want to achieve. I will include as many details as possible!
2. Discover a Big Why
I will write down a list of specific, positive, emotional reasons for achieving the goal, and post the list where I can review it regularly.
3. Define The Pain
I will list all the regrets and/or consequences of NOT achieving it (think 1,3, and 5 years into the future).
4. Capture My Vision
I will create a vision board with pictures (people, places, and things) and words that help me live' the emotional experience of achieving my goal.
5. Learn What I Need To Do
I will use Google to find books, courses, articles, how-to's, guides, tips, and videos that explain how to accomplish my goal
6. Find a Mentor
I will gather a list of 10-20 questions and interview someone who's achieved what I want to achieve.
7. Develop a Plan
I will develop a simple step-by-step plan containing milestones with dates. I won't know all the details initially. I just need a rough guide.
8. Choose Some Rewards
I will choose several small rewards (books, movies, clothes, tools, days off, etc.) to give myself after completing various stages of my goal.
9. Identify Resources
I will take inventory of what assets I currently have at my disposal, including tools, skills, experience, contacts, websites, etc.
10. Eliminate Roadblocks
I will create a simple list of potential roadblocks I could encounter, then decide (in advance) how to quickly overcome them.
11. Remove Distractions
Too much TV, games, and over-socializing (in person, on the phone, or online) consume valuable time. I will create a 'time – budget' for these activities.
12. Enlist A Partner
If I know someone who desires the same outcome as me, I will join forces with them – there's real power in synergy!
13. Manage My Time
I will take the steps within my plan, assign them each a time (30 mins., etc.), then use a timer to focus on completing each of those steps.
14. Connect With It
I will regularly turn off all noise (TV, computer, phones, etc.) so I can sit quietly for 5-10 mins, to visualize and meditate on my goal.
15. Maintain My Health
Good health provides energy! I will drink plenty of water, eat healthy foods, breathe deeply, and get some moderate exercise.
16. Become

 

Accountable
I will commit to my goal publicly by telling others about it (in person or online). I will share with them both details and progress.
17. Immerse My Self In It
I will surround myself with anything (people, pictures, books, music – whatever) that keeps me immersed in the reality of my goal.
18. Take Specific Action
I will take at least 1action toward achieving my goal each day – even if it's something small.
19. Stay Excited
I will keep myself excited about my goal by adopting a 'What If UP' mindset: What if I do better than expected? What if it all goes right? Etc.
20. Review My Progress
I will spend 5-10 mins, a week reviewing the progress I am making toward my goal, and make any changes as necessary.
Download the 20 Steps To Achieving Anything map,
Print it, laminate it, and hang it on your wall. Use it as a constant reminder and motivator of how to Achieving Anything!
A beautifully illustrated, one-page guide with powerful reminders for Achieving Anything. It's a high-quality Map that You will find real value in using day after day.
A step-by-step plan for achieving anything
Clarity + Emotion + Action = Achievement
Learning Guide
Intended Lesson For This Map
To help you understand that successfully achieving something is rarely the result of chance, but it requires following a proven blueprint, or step-by-step plan.
These 20 steps are designed to help you clarify your goal (to define and see it clearly – including specifics and details), and to help you regularly connect with it on an emotional level.
Understand The Elements Of This Map
The 20 Steps
Each of the 20 Steps is action-oriented – each one begins with a verb! The action for the individual steps is self-explanatory. The steps should be completed in the order shown.
Next Actions For This Map
The next Actions are practical suggestions for immediately putting this map to use.
Review the entire 20 Step plan
Create a personal plan, beginning with Step 1